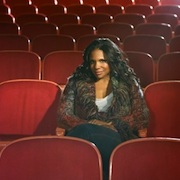 Following her appearance in NBC's hit production of The Sound of Music Live! last month, Audra McDonald makes her way to the west coast this January for concerts at Stanford's Bing Concert Hall (Jan 17) and Sonoma State University's Green Music Center (Jan 18). The performance in Stanford is part of Bing Concert Hall's inaugural season, and her debut at Sonoma's Green Music Center is being celebrated with an LGBT mixer titled "A Night OUT at Weill Hall."
After a performance at the Hanover Theater in Worcester, MA (Feb 22) and a rescheduled appearance at the Kravis Center for the Performing Arts in West Palm Beach, FL  (Feb 26), the Fresno-native returns to California for a special benefit concert at Visalia's L. J. Williams Theater (Feb 28) to support Hands in the Community, a local charity that provides crisis and short-term referral services for families, children, and low-income individuals.
In each of these cities, the Grammy Award-winning singer will perform songs from her recent solo recording, Go Back Home, as well as other personal favorites.
Click here for a full list of upcoming tour dates.
---