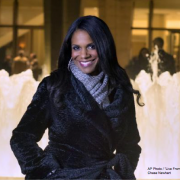 Lincoln Center for the Performing Arts today announced that Audra has signed on as the official host of the landmark PBS series Live From Lincoln Center. In her new role, she will host seven broadcasts from December 2012 through Spring 2013 including "The Richard Tucker Opera Gala" on Thursday, December 13 and the New York Philharmonic's New Year's Eve Gala, "One Singular Sensation: Celebrating Marvin Hamlisch," on Monday, December 31. She will also perform in the New Year's Eve live telecast. (Check local listings.)
Audra said, "I grew up watching Live From Lincoln Center and Beverly Sills, the great soprano who used to regularly host the series, was such an inspiration to me. Ever since I moved to New York to attend The Juilliard School, I've spent so much of my life at Lincoln Center that I consider it my home away from home. Needless to say, I was incredibly honored when Live From Lincoln Center invited me to become the host."
"Audra's Lincoln Center roots run deep and wide," said Elizabeth Scott, Chief Media and Digital Officer for Lincoln Center, and executive in charge of the series. "She's performed on every major Lincoln Center stage, and her appearances on Live From Lincoln Center are among the most enduring presentations in the series' 37-year history. We're thrilled that this consummate artist–whose passion for the performing arts is infectious–will be the new face of Live From Lincoln Center. We can't imagine a more perfect match."
Audra made her Broadway debut in The Secret Garden while still a classical voice student at The Juilliard School. Before long, she earned her first of five Tony Awards for her role in Lincoln Center Theater's 1994 production of Carousel.
Thanks to Live From Lincoln Center, viewers across the country have experienced Audra's performances in "Stephen Sondheim'sPassion" with Patti Lupone, "Audra McDonald Sings the Movies" with the New York Philharmonic, and more. Most recently, she hosted "The Philharmonic Opening Night Gala with Itzhak Perlman." Upcoming programs will be announced shortly.
Live From Lincoln Center is in its 37th broadcast season. The series has received 13 Emmy Awards to date. Live From Lincoln Center has made the world's greatest artists on Lincoln Center's renowned stages accessible to home viewers in virtually every corner of the United States.
---