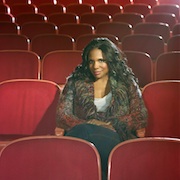 Audra, whose new album, Go Back Home, is released today on Nonesuch Records, was featured on NPR's Weekend Edition Saturday. Audra spoke with NPR's Jeff Lunden about her personal connection to the songs on the album.
"Like many of her previous albums, McDonald has found a mixture of songs from Broadway legends—'Go Back Home' was written by Kander and Ebb," Lunden explains, "to a younger generation of songwriters, including Adam Guettel, Tony winner for The Light in the Piazza, whose 'Migratory V' is featured on the album." Lunden talks with Adam Gwon, who is also among the younger generation of composers featured on the album, and says McDonald's "first album, Way Back to Paradise, was kind of the thing that made me want to be a composer."
Audra is also the subject of a feature article from the Associated Press. Noting the personal nature of the new album and this Friday's broadcast of "Audra McDonald In Concert: Go Back Home" on PBS's Live From Lincoln Center, the AP's Mark Kennedy says: "Both pull back the curtain on one of the most decorated women on Broadway … The CD's title taken from the stunning Kander and Ebb song from The Scottsboro Boys musical is a hint that this is McDonald's most personal album to date." You can also read a story on the album from the New York Daily News here.
New York magazine lists the album and the TV performance as two of the must-do events this week. "It's entirely possible that Audra McDonald is the greatest singer alive," exclaims New York. "Her new album, Go Back Home, shows off her core strengths."
Click here to purchase Go Back Home.
---