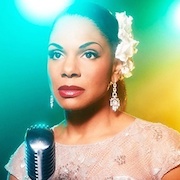 After postponing performances of Lady Day at Emerson's Bar & Gill because of the bundle of joy that is Sally James McDonald-Swenson (evidenced here, here, and here), Audra McDonald is finally bringing her award-winning performance of Billie Holiday to Wyndham's Theatre in London for a 14-week run this summer.

Written by Lanie Robertson and directed by Lonny Price, Lady Day at Emerson's Bar and Grill opened at the Circle in the Square theater in 2014 to great acclaim, earning Audra her sixth Tony Award, an Outer Circle Critics Award and a Drama Desk Award.

In addition to her stage performance, Audra can also be seen in the HBO special, filmed live at Cafe Brasil in New Orleans.

Lady Day at Emerson's Bar and Grill opens at Wyndham's Theatre on June 17, and tickets go on sale February 3. Visit  LadyDayWestEnd.com for more information.
---