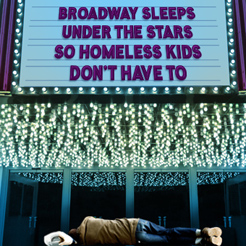 As she continues her Tony Award-winning Broadway performances as Billie Holiday in Lady Day at Emerson's Bar & Grill—now extended through October 5—Audra McDonald will sleep outside in solidarity with homeless youth one night this summer as part of Sleep Out: Broadway Edition 2014.
The fundraising event is organized by Covenant House, the largest privately funded agency in the Americas providing shelter, food, immediate crisis care, and an array of other services to homeless and runaway youth. Audra will join the Covenant House International Board of Directors in September.
As part of Sleep Out: Broadway Edition 2014, Audra has embarked on a campaign to raise $10,000 or more for the organization. She is already well on her way to meeting her goal, but to encourage people to donate further, she is now offering an array of one-of-a-kind prizes in exchange for donations that are made between today and next Friday, August 15 at noon EDT.
*For a $35 donation, Audra will recognize you in a "Cool People Hall of Fame" on her Facebook page
*For a $100 donation, Audra will give you a shout-out on Twitter
*For a $275 donation, Audra will send you a personalized, autographed copy of the Lady Day at Emerson's Bar & Grill cast recording (courtesy of PS Classics)
*For a $500 donation, Audra will record your voicemail greeting (sent as an MP3)
*For a $1,000 donation, Audra will sing happy birthday on video to you or a special person of your choosing
Click here to visit Audra's fundraising page and make a donation. Supporters will be contacted with details on how to redeem their prize.
Since its founding in 1972, Covenant House has helped over 1.2 million young people with immediate assistance and the support needed to a transition from a life on the streets to a life with a future. The largest privately funded nonprofit agency in the Americas, Covenant House provides food, shelter, clothing and immediate crisis care, medical care, educational and vocational programs, drug abuse treatment and prevention programs, legal aid services, recreation programs, mother/child programs, transitional living programs, life-skills training and street outreach. In 2013, they helped 56,110 youth at 22 locations across the United States, Canada, and Latin America; an average of 1,820 every night of the year.
While Sleep Out: Broadway Edition 2014 officially takes place on August 17 in New York City, Audra will sleep outside in solidarity with homeless youth on a different night this summer, as she will be traveling that evening.
Visit www.covenanthouse.org for information.
---