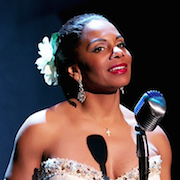 As announced this morning, Audra McDonald has been nominated for an Emmy Award in the category of Outstanding Lead Actress in a Limited Series or Movie for portraying Billie Holiday in HBO's Lady Day at Emerson's Bar & Grill.
Lady Dat at Emerson's Bar & Grill was filmed before a live audience at Cafe Brasil in New Orleans, recreating the atmosphere of the Broadway production that earned Audra her record-breaking sixth Tony Award in 2014.
Watch Lady Day on HBO and tune in to the 68th Primetime Emmy Awards, airing September 18, 2016, on ABC.
---