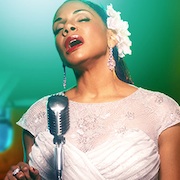 Audra McDonald returns to the Broadway stage tonight as the legendary jazz singer Billie Holiday for the first preview performance of Lanie Robertson's Lady Day at Emerson's Bar & Grill at the Circle in the Square Theatre.  Directed by Lonny Price, Lady Day at Emerson's Bar & Grill will officially open on April 13. The Broadway production is a limited, 10-week engagement.
The musical play, which centers on one of Holiday's final public appearances in 1959, takes place in Philadelphia four months before the singer's death. The 90-minute show includes such songs as "God Bless the Child," "Strange Fruit," "What a Little Moonlight Can Do," "When a Woman Loves a Man," "Foolin' Myself," "Don't Explain," "Somebody's On My Mind," "Taint Nobody's Bizness," "Baby Doll" and more.
This production marks Audra's first time on Broadway since her Tony-Award winning performance as Bess in The Gershwins' Porgy and Bess. Click here for more information and to purchase tickets.
---