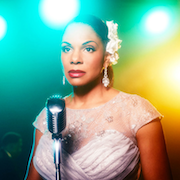 Five-time Tony Award-winner Audra McDonald will return to Broadway this spring to take on the role of legendary jazz singer Billie Holiday in the Broadway premiere of Lanie Robertson's Lady Day at Emerson's Bar & Grill.  The musical play will be directed by Lonny Price (110 in the Shade, A Class Act) and will begin rehearsals on March 10, 2014, with previews beginning March 25, 2014, at the Circle in the Square Theatre (1633 Broadway) for a strictly limited 10 week engagement with only 70 performances. Opening night is set for April 13, 2014.
Lady Day at Emerson's Bar & Grill recounts Holiday's life story through the songs that made her famous. 1959, in a small, intimate bar in Philadelphia, Holiday puts on a show that unbeknownst to the audience, will leave them witnesses to one of the last performances of her lifetime.  Through her poignant voice and moving songs, one of the greatest jazz singers of all-time shares her loves and her losses.
Among the 18 songs that will be performed: "God Bless the Child," "What a Little Moonlight Can Do," "Strange Fruit" and "Taint Nobody's Biz-ness."
Frequent collaborators Lonny Price and Audra have been developing and working on Lady Day at Emerson's Bar & Grill for more than two years. The intimate setting of the Circle in the Square provides a unique theatrical experience, drawing audiences – especially those seated at the tables onstage – into the performance.
Tickets will be available via Telecharge.com or by calling (212) 239-6200.
---