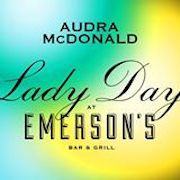 On June 17, Audra McDonald makes her long-awaited West End debut playing Billie Holiday in Lady Day at Emerson's Bar & Grill. Earning her a record-breaking sixth Tony Award, Drama Desk Award, Outer Critics' Circle Award, and an Emmy nomination for its HBO filmed version, Audra's performance of the iconic jazz legend features some of her best known hits.
Written by Lanie Robertson and directed by Lonny Price, Lady Day at Emerson's Bar and Grill opened at the Circle in the Square Theatre in New York City in 2014. Audra reprises the role for this 12 week limited run on the West End.
Performances run through September 9 at the Wyndham's Theatre. Visit LadyDayWestEnd.com for tickets and more information.
---