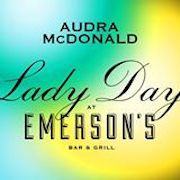 Due to popular demand and strong critical acclaim, Lady Day at Emerson's Bar & Grill's limited engagement at the Circle in the Square Theatre has been extended through August 10, 2014. Lanie Robertson's musical play, which began previews on March 25 and opened on April 13, recounts Billie Holiday's life story through the songs that made her famous. In a small intimate bar in Philadelphia in 1959, Holiday puts on a show that unbeknownst to the audience, will leave them witnesses to one of the last performances of her lifetime. Through her poignant voice and moving songs, one of the greatest jazz singers of all-time share her loves and losses.
Among the songs performed are "God Bless the Child," "What a Little Moonlight Can Do," "Strange Fruit," and "Tain't Nobody's Business If I Do."
Purchase your tickets to see Audra in Lady Day at Emerson's Bar & Grill.
---